Creative Approval and Blocking¶
Creative Blocking occurs when a Supplier or Ad Quality Vendor flags certain creatives as unwanted and in turn all bids that reference the flagged creatives are rejected. All Suppliers engage in creative blocking whereas only some engage in Creative Approval, additionally BidCore is integrated with Ad Lightning to ensure ad quality. You can read more about blocking in the Creative Blocking section.
Creative Approval means getting your Creatives approved for display on certain Supplier platforms before they are shown to users. Your creatives are vetted to ensure they are safe and appropriate, and if any issues are found you will be notified with information about what you can do to get your ad approved. If a Supplier does not have a Creative Approval step, your creatives are immediately available to use and seeking approval is not a necessity.
The BidStream Creative Approval Submission method is how it is initiated, and does not require you to carry out any actions

The Creative Approval Reporting API lets you check the Status of any Creatives submitted for approval, see the /creative_approval/ endpoint section for details.

The Creative Approval Report in the UI allows you to download a .tsv with the latest information, you can find it by selecting Creatives ‣ Creative Approval Report

For the standards expected of creatives, you can read more in the BidCore Creative Guidelines document.
Note
Some Suppliers bans Creatives when the same ID is used in both secure (HTTPS) and non-secure (HTTP) forms. Therefore it is recommended to have separate IDs for secure and non-secure versions of the same Creative, e.g. cr_123 & cr_123_ssl.
Creative Blocking¶
Creatives may be blocked by either Suppliers or an Ad Quality vendor, and depending on the severity of the offence, each blocking may be applied globally or per Supplier
A Supplier may block a creative from being displayed on their network. If the reason is specific to that Supplier only and somewhat subjective, the blocking will only apply to their network, e.g. for creatives deemed offensive or unwanted

If a Supplier blocks a creative for a non-trivial reason, such as malware or phishing, BidCore blocks this creative from being sent to all Suppliers unless unblocked after human review

Ad Lightning works with BidCore to validate all creatives passing through the system to ensure they work well. If they block a creative, it is listed in the Creative Approval report under 3rd Party Vendor.
In all cases of blocked creatives a reason is provided and can be found in the Creative Approval and Blocking report. Unlike Creative Approval you cannot simply change a blocked creative and resend it, you need to contact BidCore support to get it unblocked once you have fixed it. Creatives may be blocked for the following reasons.
Adult Content

Alcohol

Auto-redirects

Auto-play video

Blank creative

Browser Extension

Cryptomining

Gambling

In-banner video

Phishing

Malware

Malicious

Other

Offensive

Pop-up/pop-under

Risky platform

Suspicious

Unsavory content

Unwanted
Note
Ad Lightning is a third-party vendor that checks creatives for malware or other forms of undesirable creative malpractice. It does not engage in any form of "Creative Approval" per se, such as checking the content of creatives for brand specific needs like adult content or other sensitive categories. It only focusses on technical issues that a creative might exhibit and blocks infringing creatives from being passed through BidCore
BidStream Creative Approval Submission¶
When you bid on a bid request with a new Creative, the bid is sent to the Supplier, and the new Creative is also submitted to their approval service. Unless the Supplier does not require CA. As a result, it usually take 15-20 minutes but sometimes up to several hours before the Supplier approves the Creative. During this period, none of the bids that you submit to the Supplier will win, as the Creative has not been approved. Usually this creates no issues, as over the duration of a campaign the gap in spend accrued during the first few hours is easily closed.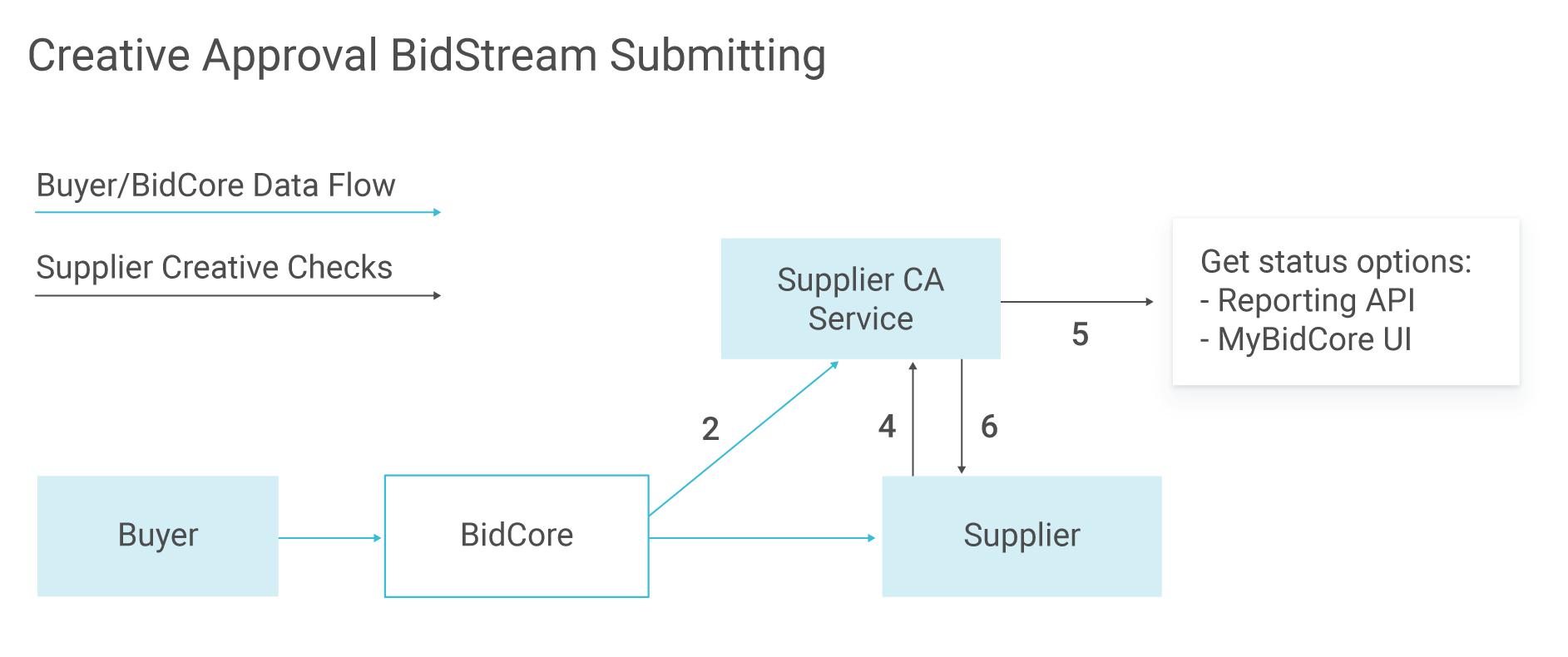 Creative Approval and Blocking Partners¶
The following partners appear in the Creative Approval and Blocking report.
| Partner | Report name | Review Type |
| --- | --- | --- |
| Ad Lightning | 3rd Party Vendor | Creative Blocking. This service checks all creatives, if an issue is found bids referencing that creative are not submitted to Suppliers |
| All SSPs | Their name | Creative Blocking. Any Supplier may block a creative from being used on their network at any time. A reason is usually attached in the report. |
| Google Ad Exchange | Google | Creative Approval. Once approved creatives can be submitted for opportunities on their network. |
| Xandr | Appnexus | Creative Approval. Once approved creatives can be submitted for opportunities on their network. |